Bicycle Accidents
Cape Coral Bicycle Accident Attorney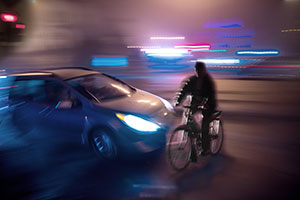 Florida's warm and sunny weather draws many people to enjoy the outdoors on their bicycles. Whether a means to exercise, commute to work, or just enjoy the afternoon, bicycles are a popular form of transportation in Cape Coral.
Despite its rise in popularity, many streets are not equipped for bicycles and cars to share the road. A driver may not see a bicyclist traveling down the street and cut them off as they change lanes or turn in front of them. A car that runs a red light or does not yield at a crosswalk could hit a cyclist as they cross the road. Without the protection of the car frame around them, a cyclist can be gravely injured if they are hit by a car or fall off their bike. The resulting injuries can be severe and even fatal in some cases.
The Law Offices of Wolfson & Leon defend the rights of cyclists injured in accidents caused by the negligence of a third party. With almost 60 years of personal injury experience, our team of Cape Coral bicycle accident lawyers helps victims badly hurt in accidents recover compensation to pay for the medical care and replace lost income. If your family is affected by a bicycle accident, you can find out what rights to compensation you may have by calling (239) 471-0714 today for your free and confidential consultation.
Bicycle Accident Statistics in Florida
With no frame around their body to protect them in case of a crash, there is a high chance that a cyclist will be injured if they are involved in an accident. Based on statistics compiled by the Florida Highway Patrol, there were 5,952 bicycle accidents in Florida in 2020, with over 96% of these crashes resulting in a bicyclist injury or fatality. In Lee County alone, eight fatalities and 202 injuries resulted from the 216 reported bicycle crashes in 2020.
Cape Coral Bicycle Accident Causes
When cars and bicycles share the road, there is a chance that an accident may occur. Drivers who do not see a bike or recklessly operate their vehicle can hit a cyclist on the road. Some of the most common Cape Coral bicycle accidents are caused by drivers who:
Don't check their blind spots before switching lanes.
Make a right or left-hand turn in the path of an oncoming bicycle
Fail to yield to bicycles crossing the street
Rear-end a bicycle sitting at a stop sign or red light when they do not stop in enough time
Open their car door without checking for an oncoming bicyclist
Don't look for bicycles as they pull out into traffic
Cyclists may be injured if thrown into the road or sidewalk because they are usually in motion at the time of the accident. They may also endure injuries if they swerve to avoid being hit by a car.
Common Bicycle Injuries in Cape Coral
Cyclists suffer devastating injuries when they have an accident. They may endure extensive injuries when hit by a speeding car. A cyclist may be thrown from their bike or suffer considerable damage to their bodies from the crash's impact.
Some of the most common injuries bicyclists endure in an accident include:
Broken or crushed limbs
Internal organ damage
Road burns
Muscle or tendon strains
Ligament sprains
Damage to the neck or back
Deep cuts
Bruises and scrapes
Even if a helmet is worn, a bicyclist could suffer from traumatic injuries to their brain if their head hits the car, road, or another firm surface. A cyclist may suffer from a concussion, skull fracture, brain hemorrhage, torn tissues, or other severe injuries to their brain. While some head injuries may be minor and heal over time, other injuries may permanently alter a person's ability to move, speak, or reason.
A cyclist hurt in an accident should always seek medical help, even if the injuries seem minor. An accident victim may have unknowingly hit their head or could have internal injuries they are not aware of. The damage to a person's skin may seem relatively minor but could become badly infected if not treated promptly.
Recover Damages in Cape Coral Bicycle Accident
A bicyclist might be eligible for compensation if they were injured in an accident. Compensation may include money to pay for emergency room care, medical treatment, hospitalization, and doctor visits. If the injuries are substantial and prevent you from working, you could be reimbursed for your lost income during your recovery.
In addition to the economic costs, you may be awarded compensation for the non-economic costs from your injuries, such as pain and suffering and mental anguish. If your injuries affect your future earning potential, you may be awarded damages to compensate for lost income.
You might be wondering if you are even eligible to recover damages if you didn't wear a helmet when you were hurt. While a helmet may offer some protection against injury, Florida law does not require helmets to be worn if you are over 16 years old. Whether you had a helmet on or not does not change the fact that an accident occurred and does not affect the driver's negligence.
Cape Coral Bicycle Accident Law Firm
At Wolfson & Leon, we believe bicycle accident victims should know what their rights are when they have been hurt. We evaluate cases at no charge to help injured cyclists understand what compensation they could be eligible for when they have been badly injured. Call us at (239) 471-0714 to tell us about your situation, ask questions, and find out what to expect if you have a claim.
You may be worried that you can't afford legal help. Our Cape Coral accident attorneys represent your interests on a contingent-fee basis. You won't pay for our legal representation unless your case is settled successfully. This way, you can get the help you need for your case without the barrier of cost. You can find out more when you call Wolfson & Leon today at (239) 471-0714.