Wrongful Death
Wrongful Death Lawyer in Cape Coral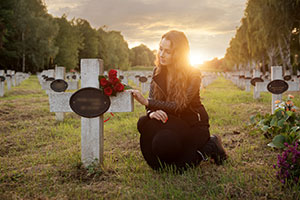 The pain and anguish families experience when losing someone they love can be unbearable. Grief and sadness may overcome surviving family members as they mourn their loss. The mental and emotional trauma can feel even worse if their loved one's death resulted from someone else's negligence or a careless act.
Beyond the grief and despair, families may struggle financially when they lose a loved one. They may be unable to pay for funeral expenses or medical bills. If the deceased was the primary income source, the family might struggle to pay for their basic household expenses such as food, rent, and utilities.
At Wolfson & Leon, we understand the anguish and emotional pain families go through as they grieve. And if a reckless or negligent act caused the death of your loved one, you may be left angry and wondering what you can do to protect your family's interests. While nothing can bring your loved one back, surviving family members may be able to recover compensation to help pay for household bills, funeral costs, and medical expenses. Find out how a best Cape Coral wrongful death lawyer can help you by calling (239) 471-0714 today.
How Do You File a Cape Coral Wrongful Death Claim?
The surviving family members do not file wrongful death claims. Instead, an estate must be opened on behalf of the deceased and administered by a personal representative named in their last will and testament. Should the representative identified in the decedent's be unable to fulfill this responsibility, or if the deceased did not prepare a will, the court will appoint someone to serve in this role.
A wrongful death claim provides surviving family members the means to recover compensation for their loss. Since these are not criminal cases, wrongful death claims are dealt with in civil court.
When making a case for a wrongful death, there are four elements the estate must prove when filing a wrongful death claim. These include:
Duty of care – The estate must show that the third party owed your loved one a duty of care. As an example, drivers have a duty to operate their vehicles safely on the road.
Breach of care – In a wrongful death claim, the estate must demonstrate that the third party violated this duty of care. Drivers who cause accidents when running red lights or driving while intoxicated are examples of a breach of care.
Cause – The estate must prove that a third party's negligent or reckless actions resulted in death.
Damages – You must show that the death of your loved one caused surviving family members emotional, mental, and financial harm.
Accidents That May Result in Wrongful Death
With any accident, there is a risk of serious injury or death. Car crashes are among the most common accidents that could result in death. Drivers who speed, are distracted or intoxicated, or recklessly operate their vehicles may be found negligent if their behavior results in death.
Other common accidents that may result in death include:
Accidents involving pedestrians, motorcycles, and bicycles
Large truck accidents
Defective products
Medical malpractice
Workplace accidents
What Damages Can I Recover in a Wrongful Death Claim in Cape Coral?
In Florida, only a personal representative can file a wrongful death claim on behalf of surviving family members who had a close relationship with the deceased. Surviving family members that could be entitled to compensation in a wrongful death claim include:
Spouse
Children who are under 25 years old
Parents
Adopted siblings or blood relatives that were financially dependent on the deceased for services or support
Compensation in a Cape Coral Wrongful Death Case
Families who lose a loved one may suffer from more than just the emotional pain and grief. A family may experience tremendous financial strain because of medical bills, funeral costs, and lost income. By filing a wrongful death suit through the decedent's estate, the family may be awarded compensation to pay for economic and non-economic damages, such as:
Lost wages and benefits the family would have received if the deceased were alive
Funeral expenses
Medical bills
Loss of companionship and protection
Parents who lose a child may be awarded compensation for emotional or mental suffering.
Nothing hurts more than to lose a loved one in an accident. Emotional pain and trauma can fill us with immense grief, remorse and sadness. If your family is financially affected by the loss of someone you love, they may be able to recover much-needed compensation through a wrongful death claim. Find out more by calling the Cape Coral wrongful death lawyers at Wolfson & Leon at (239) 471-0714.
Why Hire a Cape Coral Wrongful Death Lawyer?
The complicated laws governing wrongful death claims can be challenging to navigate. Depending on the nature and circumstances around the accident, multiple parties may share in the responsibility for the death of your loved one. Not only are there numerous factors that must be satisfied for a wrongful death case, but the claim must also be filed within two years following the death of your loved one. If you cannot satisfy the specific criteria to prove a wrongful death case or file a claim too late, your family could lose out and suffer financially.
At Wolfson & Leon, our free consultation can give you insight into what legal remedies may be available to your family if you have lost a loved one. Whether you are wondering if you have a wrongful death case, how much compensation you might be able to recover, or how to go about filing a claim, our Cape Coral wrongful death lawyers are here to talk with you 24 hours a day, seven days a week.
Should you choose to pursue a wrongful death claim, the attorneys at Wolfson & Leon help build your case, take care of filing the necessary paperwork, and defend your interests in court. Find out how the Cape Coral wrongful death attorneys at Wolfson & Leon can help you by calling (239) 471-0714 today.