Motorcycle Accidents
Cape Coral Motorcycle Accident Lawyer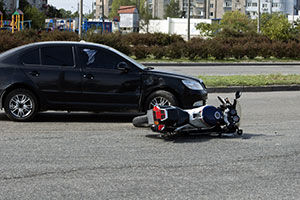 Sunny skies and warm weather make Florida an ideal place for motorcycles. Whether you are taking your bike out for a weekend ride or commuting to work, motorcycles continue to be a popular way to get around town. Yet motorcyclists face risks when they share the road with cars and trucks. Statistics presented by the Florida Department of Highway Safety and Motor Vehicles, there were 8,571 motorcycle accidents in Florida, resulting in 7,384 injuries and 567 fatalities recorded throughout the state in 2021. Lee County logged 352 motorcycle crashes with 314 injuries and 22 deaths.
Heavy traffic, high speed, and road construction can pose hazards to motorcycles. Drivers who are not paying attention may cut off, sideswipe, or rear-end motorcycles. Without the exterior protection that a car provides, a motorcyclist can be gravely injured if they are hit or thrown from their bike.
If a severe motorcycle injury adversely impacts your family, it is a good idea to speak with a Cape Coral motorcycle accident lawyer. At Wolfson & Leon, our team of accident attorneys has defended the rights of people hurt in motorcycle and other vehicular accidents for over 55 years. Find out how our Cape Coral motorcycle accident lawyers can help you by calling (239) 471-0714 today.
Should I Call a Cape Coral Motorcycle Accident Lawyer?
Motorcyclists injured in an accident may face challenges quite different from those of a passenger car owner. While you must carry motorcycle insurance in the State of Florida, you are not required to have personal injury protection (PIP) insurance. Enlisting the assistance of a Cape Coral personal injury lawyer as soon after your accident as possible may help you navigate the complexities associated with motorcycle accidents.
A Cape Coral motorcycle accident lawyer will talk with you about the circumstances around your accident. To evaluate the legal merits of your case, a motorcycle accident attorney considers such factors as the extent of your injuries and their impact on your life, the cost of medical treatment, and the specifics around your accident. They will evaluate all parties involved in the accident and the potential insurance coverage that may be available.
At Wolfson & Leon, our team of Cape Coral motorcycle accident attorneys handles your case from the initial call to the final settlement. We work with you to build your case if you have a claim. We bring on experts for research or testimony when appropriate. We work directly with the insurance company to negotiate the best settlement possible. Our Cape Coral motorcycle accident attorneys represent your rights if your case goes to court.
What Factors May Cause Motorcycle Accidents in Cape Coral?
Motorcycles share the same lanes as other vehicles on the road, such as cars, buses, and large trucks. Due to their smaller size, a bike can be harder to see if drivers are not paying close attention to the road and the vehicles around them. Common causes of motorcycle accidents include:
Rear-end accidents: A driver may be traveling too fast to stop or may not correctly judge the distance between their vehicle and a motorcycle sitting at a red light or stop sign. A motorcycle rider may also be hit if the car behind them is tailgating.
Changing lanes: Drivers may have a more challenging time seeing a motorcycle traveling next to their vehicle, so they should thoroughly check their blind spots before changing lanes.
Pulling into traffic: Motorcycles may be cut off or hit by cars as they pull into traffic as drivers may not be able to see them.
Turns: A motorcycle could be hit if a driver cuts them off by making a right or left-hand turn in front of them.
Construction: Large trucks and construction zones pose hazards to motorcycles.
Car doors: A cyclist may be knocked off their bike or swerve out of the way of a driver who opens the door of their parked vehicle in the path of an oncoming motorcycle.
Road conditions: Poor weather, potholes, debris, and other road damage may cause motorcycle riders to lose control over their vehicle.
In some cases, a motorcycle accident may be caused by poor design, defective parts, or an error in the manufacture of their bike.
Common Motorcycle Accident Injuries in Cape Coral
Motorcyclists typically wear helmets, gloves, and special clothing to keep them safe from the elements. Despite this protective gear, a motorcycle rider can be seriously injured in an accident. When a motor rider gets hit, their body could encourage considerable damage due to the vehicle's weight and the speed it is traveling at. The cyclist may fall off or be thrown from their bike. Typical injuries resulting from a Cape Coral motorcycle accident include:
Broken bones
Road burns
Head trauma
Damage to internal organs or spinal cord
Sprains or strains
Cuts and lacerations
Bruises and scrapes
When you are badly hurt in a motorcycle accident, it is helpful to seek the help of a Cape Coral accident lawyer. Depending on the circumstances around the crash, there may be multiple parties who share the responsibility or other factors that a personal injury attorney considers when evaluating the legal merits of your case. To help you get the compensation you are entitled to, call Wolfson & Leon today at (239) 471-0714.
Cape Coral Motorcycle Accident Law Firm
At Wolfson & Leon, our team of personal injury lawyers has decades of experience in representing the rights of motorcycle accident victims. We take the time to listen to your story, answer questions, and we can guide you through potential legal remedies that could be available. Our Cape Coral accident lawyers stay by your side from the first call to settlement if you decide to pursue a case.
At Wolfson & Leon, we offer a free consultation and charge no legal fees for our services unless your case is settled successfully. To find out how the Cape Coral motorcycle accident lawyers from Wolfson & Leon can help you, take advantage of our free consultation by calling (239) 471-0714 today.