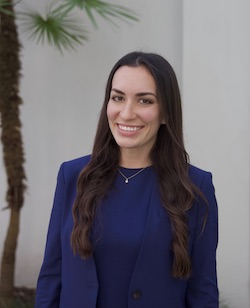 Tara Rosenberg
Meet Tara, a true Miami native who embarked on an impressive academic journey, culminating in a Magna Cum Laude graduation from Florida State University in 2014. Her intellectual curiosity led her to pursue a Bachelor of Arts in English and Communications, preparing her for a career where effective communication and critical thinking are paramount.
Undoubtedly, Tara's passion for law led her to Florida State University College of Law, where she diligently studied and earned her Juris Doctorate in 2017. But Tara wasn't just a diligent student; she was a standout legal talent. During her time in law school, she became a Certified Legal Intern at the renowned State Attorney's Office in Tallahassee. There, she immersed herself in the complexities of the legal system, working closely with prosecutors in the Juvenile division and gaining valuable courtroom experience through motion practice and bench trials.
With her law degree in hand, Tara returned to her beloved hometown of Miami and embarked on an inspiring legal career. Her dedication and commitment were quickly recognized when she was sworn in as an Assistant State Attorney at the prestigious Miami-Dade State Attorney's Office. As an Assistant State Attorney, Tara took on the responsibility of prosecuting a diverse range of criminal cases, from misdemeanors to serious felonies. Her caseload covered a broad spectrum of offenses, including DUI, theft, burglary, aggravated battery, and more. Tara's outstanding performance in the courtroom earned her respect and accolades from peers and superiors alike, and she successfully completed numerous jury trials.
While Tara flourished as a prosecutor, she decided to explore new avenues in law, transitioning into the private sector. For almost 3 years, she honed her skills as an attorney at a well-established Worker's Compensation defense firm in Miami. In this role, Tara represented insurance carriers, self-insured employers, and third-party administrators, ensuring fair and just outcomes in challenging cases.
Today, Tara is making waves as a dedicated attorney at the esteemed law firm of Wolfson & Leon. Combining her trial experience as a prosecutor with her expertise in litigation as an insurance defense attorney, Tara has become a formidable advocate for her clients in Personal Injury and Worker's Compensation cases. Her passion for justice, her sharp legal mind, and her unwavering dedication to her clients make her a prominent and trusted figure in Miami's legal landscape.
Education
J.D., Florida State University College of Law, 2017
B.A., Florida State University, 2014
Communications and English
H.S., Carrollton School of the Sacred Heart, 2010
Professional & Bar Association Memberships
Florida Bar Workers Compensation Section
Richard A. Sicking American Inn of Court